Invent@SU, supported by Bill and Penny Allyn, trains undergraduate Syracuse University students to "design, prototype, and pitch" as they invent tangible products. Modeled after Invention Factory, the program is a collaboration between the College of Engineering & Computer Science, the College of Architecture, and VPA's School of Design, this immersive, six-week program will be held on the SU campus and at the SU Fisher Center in New York City.
Invent@SU follows a proven method of developing students' abilities to innovate and communicate. Students will learn about design, ideation and intellectual property, then conceive an original invention, prototype the invention, and refine it in response to weekly feedback from diverse audiences of guest evaluators.
Congratulations to the top place teams on the SU campus and New York City!
First Place in Syracuse – Rockin'Rolla wheelchair
Mina Diamantis and Niall Shannon
Second Place in Syracuse – Highway Wind Turbine
Tyler Vartabedian and Ryan Twombly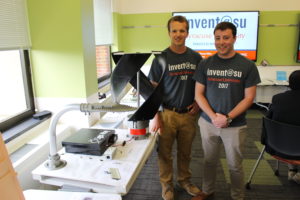 First Place in New York City – In-Spire Wearable Asthma Inhaler
Kayla Simon and Elizabeth Tarangelo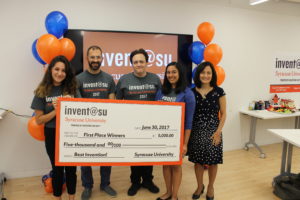 Second Place in New York City – PNEU Stength inflatable cushion
Kalia Zizi Barrow and Ruby Batbaatar